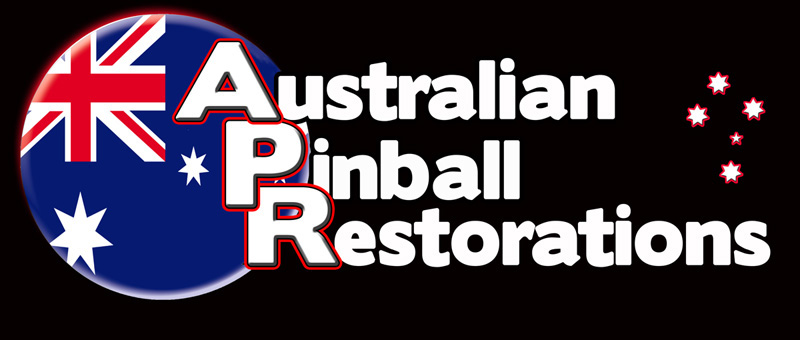 From 1950 onwards pinball machines could be found everywhere, these older games are known as Electromechanical games and can be instantly recognised by the white and black score reels and the unmistakable sounds of the chimes.

This was a time of beautiful artwork, innovative machinery and engineering in the evolution of pinball machines.

These games run on a series of relays and there are very few people in Australia who can repair these older games - at APR it is one of my specialties.

Having restored dozens of these older games to thier original condition I would like to highlight some aspects of past restorations I have completed below.

Dont forget to check out the listing of my current inventory of machines readily available to be restored for you



Australian Pinball Restorations go to great lengths and incredible detail when we take on the restoration of an Electromechanical game, we realise that these original old
classic pinball tables can often hold a lot of sentimental value to owners and new buyers and for that reason we ensure that the entire game is checked inside and out,
parts replaced where neccasary and all other components cleaned, polished and 'tumbled' back to a better than new condition in a lot of instances.
Below we will show just some aspects of our restoration process from a couple of games completed recently - Jacks Open and Buccaneer.

You will never find evidence of a 'texta pen' playfield repair with a game from APR.
If our machine has wear spots around the playfield, and many of the older games do , then we offer a professional restorations servie using quality fillers and
airbrushing so that in most cases you can never tell thewwear existed.
Check out the outlane wear from the machine called Bucaneer on the left and then compare it to the finished job on the right.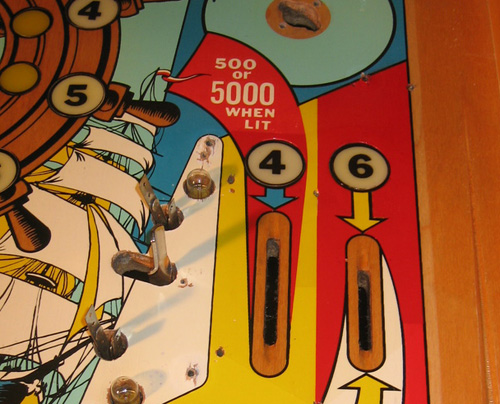 On the left is a CLASSIC example of a 'repair' carried out by the container importers who want to patch em up in a 'that'll do' manner and flick the game without caring.
We have seen this dozens of times.
On the right you will see the result of a much more professional approach to playfield repair.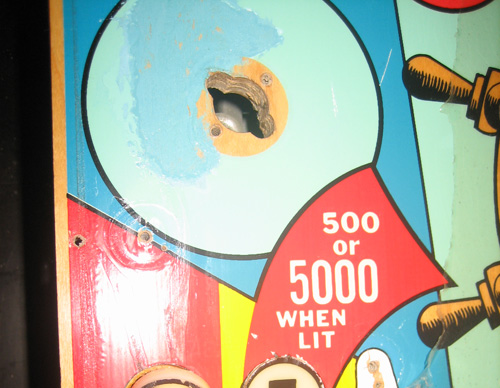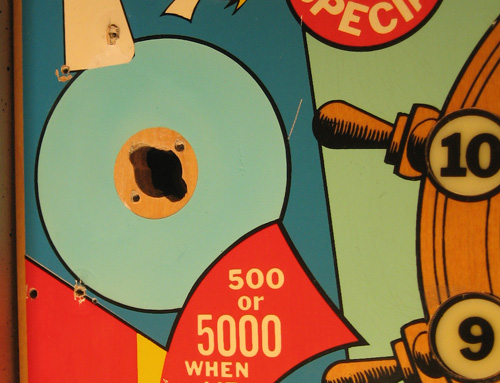 Dont see inside the game much?
We dont care , we make sure ALL of your components are taken care of as part of the restore process, these parts are repaired or replaced where neccasary and then
hand and / or machine polished so that even the insides of your game look like new again.
We use tumblers to tumble the smallest of parts back to a new condition , even every screw in the game !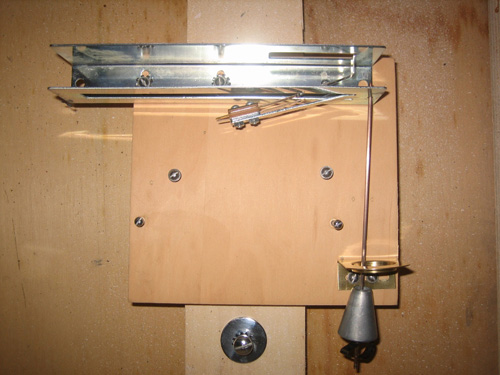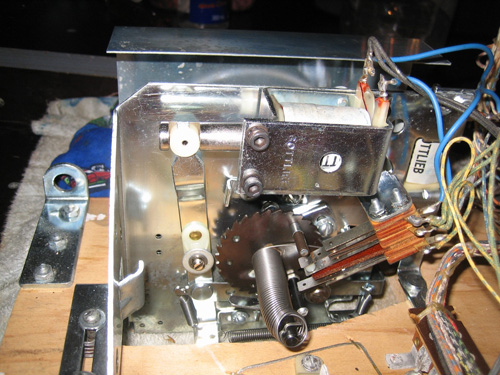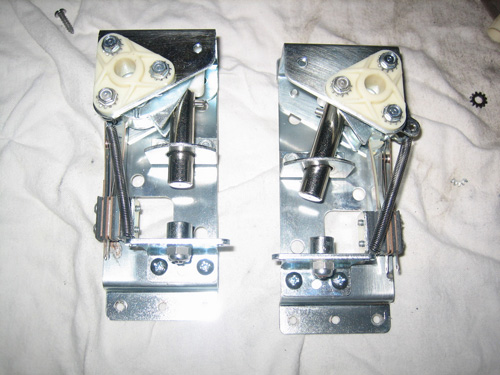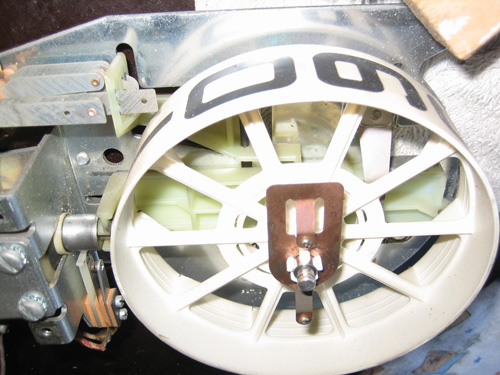 Just Like cabinets these game aprons are often scratched and have faded or worn out artwork.

Aprons are always in the players main line of sight being located at the flippers so we feel these aprons deserve some attention too.

We completely strip the original paintwork to bare steel , respray the apron and replace the original artwork.


We use the highest quality polishes and polishing methods to take your playfield to a place it has probably never been before - below are a few shots of the plyfield from Bucanner, you will see it is completely stripped, cleaned , buffed and polished before your new replacement parts are installed.When requested we also have the facilities to clearcoat playfields , you can see some information about that on our '80s Games' page.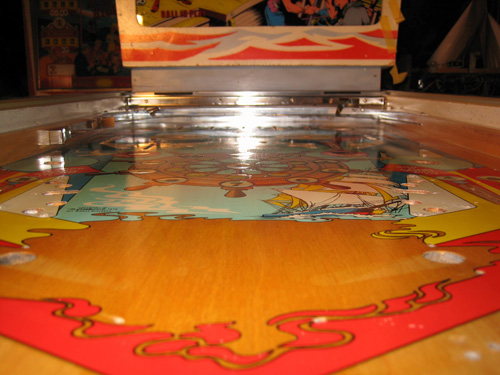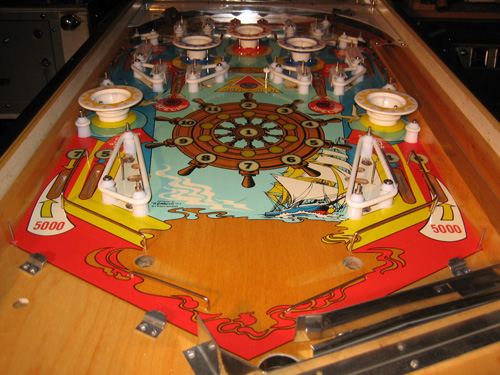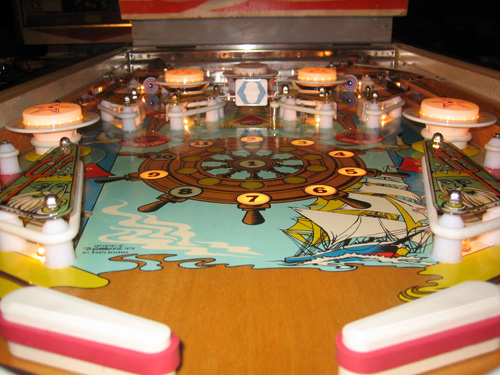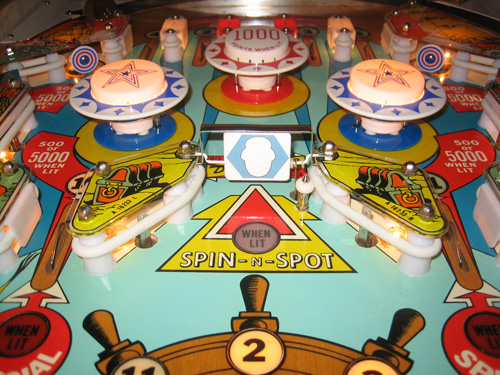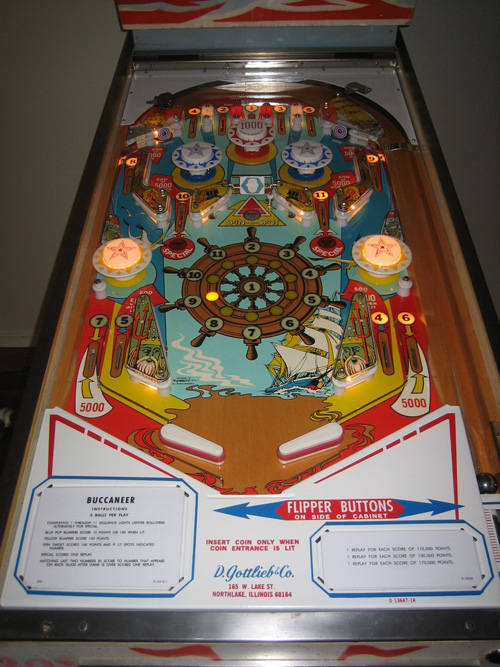 Most pinball machine cabinets , from any era , are scratched , dented, have grafitti carved into them and / or cigarette burns and stains on them......its not a pretty site.

At APR we have the facilities availabe to complete full cabinet teardowns, paint stripping and re-spraying

Many of the older 'EM' games have simple art designs involving 3 colours, being a basecoat and then 2 top colours that make up the artwork.

Having a pinball machine in your home should not mean you have something that looks old and filthy and at APR we will be able to make your game look brand new again ( where stencils are commercially available )
Please see below some example photos of a recent Pro Football cabinet restoration and complete respray where the original Pro Football cabinet was completely trashed and un-usable. We used parts from the original Pro Football cabinet and also another EM cabinet in order to create one decent cabinet for this restoration. This game was taken from a machine destined for the scrap heap and turned into a collectors quality machine.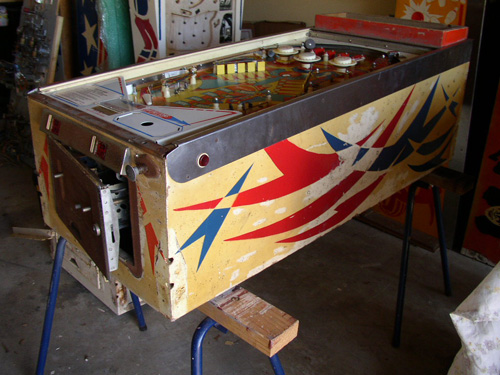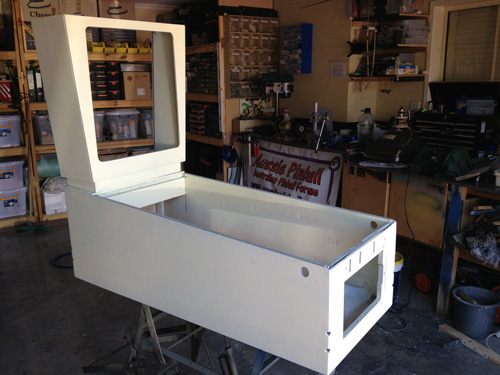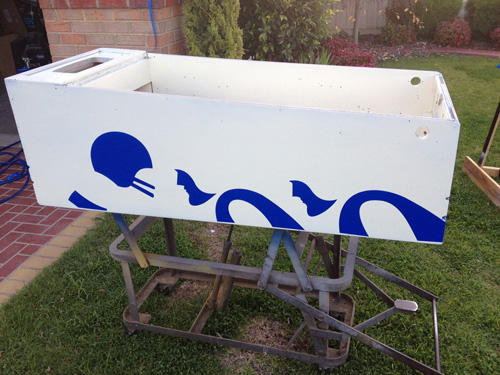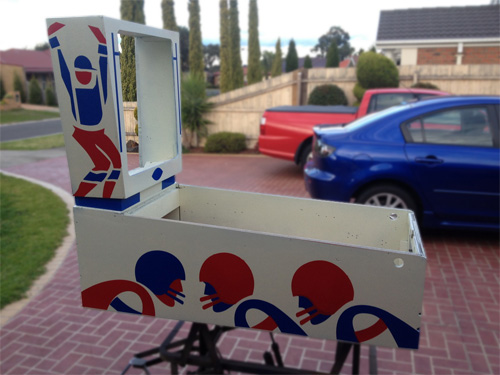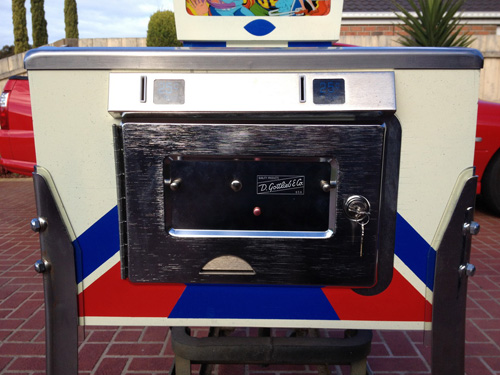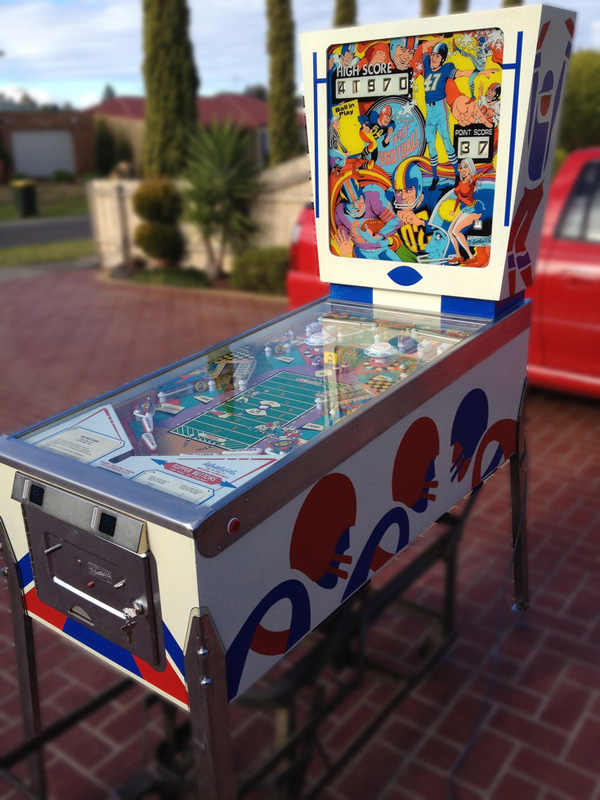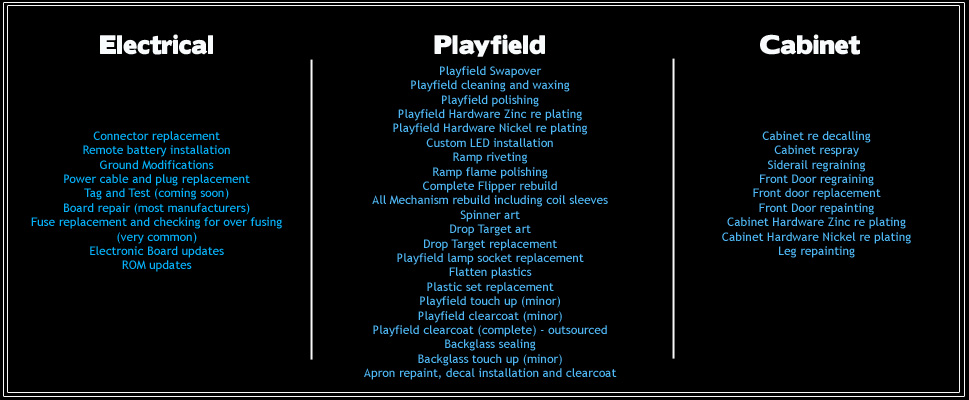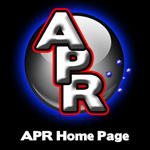 I took it to
hublot replica sale
send it over to his Jeweler and still wasn't able to get it fixed. The Rolex Replicas has never been worn since it didn't work from day one. I want to keep making business with you guys, I just want the same
cartier replica sale
but working. Please let me know the steps to follow for the return.I just received the
rolex replica uk
and not exactly the model he had requested. As you can see in the accompanying photograph
rolex replica
details they were green and you sent me the same with red accents. I have not had much luck with you, on the one hand the delivery, as they did not inform me they were closed why the Chinese new
replica watches sale
which I indicated that offered me a discount for the
rolex replica uk
which. Thanks to them, and on the other hand the error in the model reported previously. How do we solve.