Australian Pinball Restorations go to great lengths and incredible detail when we take on the restoration of an Electromechanical game, we realise that these original old
classic pinball tables can often hold a lot of sentimental value to owners and new buyers and for that reason we ensure that the entire game is checked inside and out,
parts replaced where neccasary and all other components cleaned, polished and 'tumbled' back to a better than new condition in a lot of instances.
Below we will show just some aspects of our restoration process from a couple of games completed recently - Jacks Open and Buccaneer.

You will never find evidence of a 'texta pen' playfield repair with a game from APR.
If our machine has wear spots around the playfield, and many of the older games do , then we offer a professional restorations servie using quality fillers and
airbrushing so that in most cases you can never tell thewwear existed.
Check out the outlane wear from the machine called Bucaneer on the left and then compare it to the finished job on the right.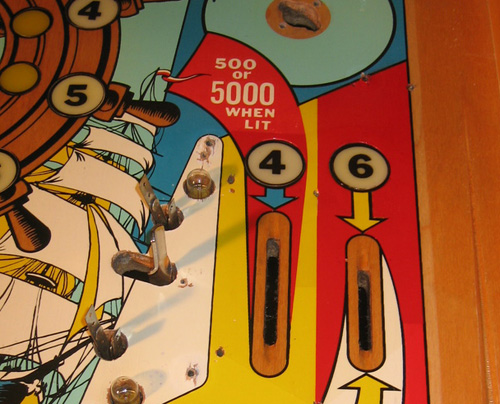 On the left is a CLASSIC example of a 'repair' carried out by the container importers who want to patch em up in a 'that'll do' manner and flick the game without caring.
We have seen this dozens of times.
On the right you will see the result of a much more professional approach to playfield repair.